L ♥ vers of ♫♫♫♫♫
Dec 02
Hanging Up My Lovers Of Sounds Cleats…
31DaysOfMusic is over… I'm taking my online identity back over to
http://missfitzpdx.com (also on tumblr)…
See you there or see you in another life, brotha…!
Nov 30
31DaysOfMusic, Day 31: All Time Favorite Artist
I've already covered this about 7 times in this meme so far, so not much more to say. I've been with her for twenty years and hope I'm with her for twenty more.
31DaysOfMusic, Day 30: Song/Album that brings up a certain time in your life
Doesn't everyone have a million of these?
I remember I got this album on the same day that I bought Anne Rice's The Witching Hour, which I bought because in my junior year English class in high school we had to do a fucking BOOK REPORT. All the jocks in my class chose The Bridges of Madison County, which if you don't know, is less than 200 pages long. The Witching Hour is almost 1000 pages. So there's one thing to say here— either the jocks were fucking idiots who couldn't read more than 200 pages, or I was a fucking idiot for not choosing a 200 page book that I could read on my lunch break.
I listened to Siamese Dream on repeat while reading it. They are tied to one another forever in my mind (for better or worse), and they take me right back into 1993.
Nov 29
31DaysOf♫, Day 29: an artist everyone hates but you like
Heh heh, kidding. I hate them, too.
Nov 28
31DaysOfMusic, Day 28: Song that is the Anthem of My Life
I can't even come to grips with all the songs I'd need to sMASH-UP to make the anthem of my life, but it probably is primarily a mixture of Madonna's "Music" (terrible grammar and all!) and Auf der Maur's "I Need I Want I Will." And though I could conceive of actually trying to mash those two songs up (I neeeeeed [music!]) - I won't put you through it.
Here's a semi-anthemic song by Goldfrapp that really pulls together my love of metal, disco, glam, pop, and aerobics:
Guess I'm a little spent at the end of these 31Days…!
Nov 27
31DaysOfMusic, Day 27: Artist You've Seen Live the Most
Playing in a promising local band means that I've seen a couple regional bands an uncountable number of times. I can't think of one national act that I've seen more than about 4 times (Madonna, Placebo, Josh Homme)— guess that's cause I grew up in Reno and no one played there, so my concert-going life didn't start til about 2001. Anyway, I've seen the Turn-Ons and their subsequent bands more times than I can count, and I'd go see them a million times more.
The Turn Ons, It's Over
*this song, It's Over, was written about the demise of the band and if I'm not mistaken this was one of the Turn-Ons last performances… additionally, this video in NO WAY justifies how awesome this band is… all the guys have gone on to other projects which I heartily recommend checking out…
Erik Blood: solo with help from drummer Will and guitarist Corey
DeVries: lead singer Travis moved to NYC and started his own band
Little Penguins: drummer Will steps out front on vox, w/ help from Corey & Erik
Nov 26
31DaysOfMusic, Day 26:
A song/album that changed your opinion about an artist
Well, I don't really know how to choose between Lady Gaga and Kanye West for this one. With Lady Gaga, I hated her with a passion at the start— mostly because I don't like anyone stupid/ballsy enough to go around talking about wanting to be the next Madonna. With Kanye, I knew he was good, but I don't listen to much hip/hop, though if you looked in my iTunes stats you would see that I have played the FUCK out of "Jesus Walks." I guess I ought to pick Lady Gaga, since it has a happier ending than my opinion about Kanye West.
My original thoughts about Gaga? A One-trick pony who goes out of her way to be weird with no substance underneath it. Turns out that honor kind of goes more to Ke$ha. It's easy to slag off pop stars, they're just such easy targets— they are products before they are people, they are the public face of a fucked up machine… And it was really easy for me to blow off Gaga until I saw this. Here's what changed my mind:
1. Her complete COMMITMENT to that ridiculous dress. In the words of Kelly, "whaaaat waaaaaas thaaaaat?"
2. She plays piano - ie, she is actually a musician. I've seen her play stand up bass and rock a midi controller (ie, you're not the only one who can press buttons onstage, Kanye!)
3. She does have pipes.. not like some other pop stars who have thin little voices that need to be doubled or tripled or octupled to make them listenable.
I saw her live this year and she blew me away. So, color me converted… I just hope she continues to earn it…
Nov 25
31DaysOfMusic, Day 25: An Album That Disappointed You.
Every INTERPOL album that came after Turn On the Bright Lights.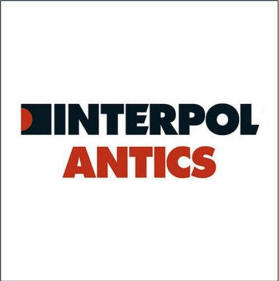 Nov 24
I know that CitadelOfMusic was referring to the album cover on my 31DaysOfMusic post for today, but I laughed my ass off seeing the notification of her comment show up on top of the photo posted by Mister Bernocco!
Oh fate, you are cruel and awesome.
Nov 23
31DaysOfMusic, Day 23: Favorite Lyric from a Favorite Song
Oh don piano..! These are all people whose lyrics I LOVE:
Neko Case * Missy Elliot * Ben Gibbard * Leslie Hall * PJ Harvey * Joe Henry * Josh Homme * Aimee Mann * Rhett Miller * Morrissey * Karen O * Nina Persson * Pamela Rooney * Kanye West * Thom Yorke
I can't really pick one. How bout 31DaysOfFavoriteLyrics?
Last Friday, Nanno and I were having drinks before our set, and this Death Cab for Cutie song came on in the club, I hadn't heard it in years… we agreed that it has some kickass language in it…
Postscript: I don't like the video a quarter as much as I like the song, but would just like to point out that Justin Bieber owes much of his hair swoop to Chris Walla.
Nov 22
I want you all to know that…
…gate C13 at PDX smells like feet.
31DaysOfMusic, Day 22: 1st Album Owned
You know that I had 45s by the Bee Gees, Michael Jackson, Kenny Rogers, and Charlie Daniels Band… but I didn't buy any of those for myself… I just kind of inherited them. Here's a run-down of the FIRSTS of things I bought for myself:
CASSETTES:
Bought these on the same day, the first tapes I ever bought using my own money and free will:
+
Not too long after this, I bought my first LP, and I really have no idea why I got it on vinyl instead of cassette, but it IS what it IS:
Note: Googling 'Slippery When Wet' without 'Bon Jovi' is highly NSFW.
Once I finally got a CD player for Christmas one year, I went right out and bought these two discs:
+
Unsurprisingly, I couldn't tell you the first mp3 album I bought. Guess that says something about modern life (=rubbish).
Nov 21
31DaysOfMusic, Day 21:Fave Song From Childhood
WHY I had a Bee Gee's 45, I cannot tell you— but I CAN tell you I played the fuck out of it.
For what it's worth, I also played Kenny Rogers' Gambler and Charlie Daniels' Band's Devil Went Down to Georgia and Michael Jackson's Thriller - all played on a Fisher Price Phonograph.